3 Part Syringe Luer Slip
Summary: Our company produces disposable consumables mainly including disposable sterile syringe, disposable sterile dissolving drugs syringe, disposable safe self-destroying syringe, disposable insulin syringe, disposable infusion set, scalp vein set, injection needle and other sterile medical devices.
Product Name: 3 Part Syringe Luer Slip Code:ZK-S-1 Specification:
Online consultation
Product Name: 3 Part Syringe Luer Slip
Code:ZK-S-1
Specification: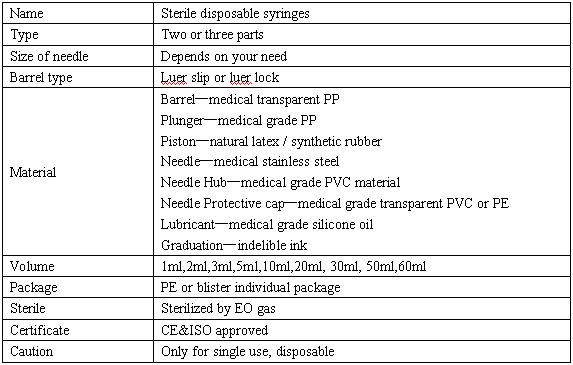 Description:
1. The syringe is consisted of the barrel, the plunger, the piston, the graduation line, the needle hub, the needle tube and the needle protective cap.
2. The Barrel is transparent enough to allow easy measurement of the volume contained in the syringe and detection of air bubble.
3. The plunger fits the inside of barrel very well, promising permitting freedom of movement.
4. Graduation printed by indelible ink on the barrel is easy to read.
5. Sterilized by EO gas,non-toxic, non-pyrogenic, only for single use.
6. High quality, competitive price, fast delivery.
Keyword: 3 Part Syringe Luer Slip
---
Copyright©2023 Jiangsu Zhengkang Medical Apparatus Co.,Ltd